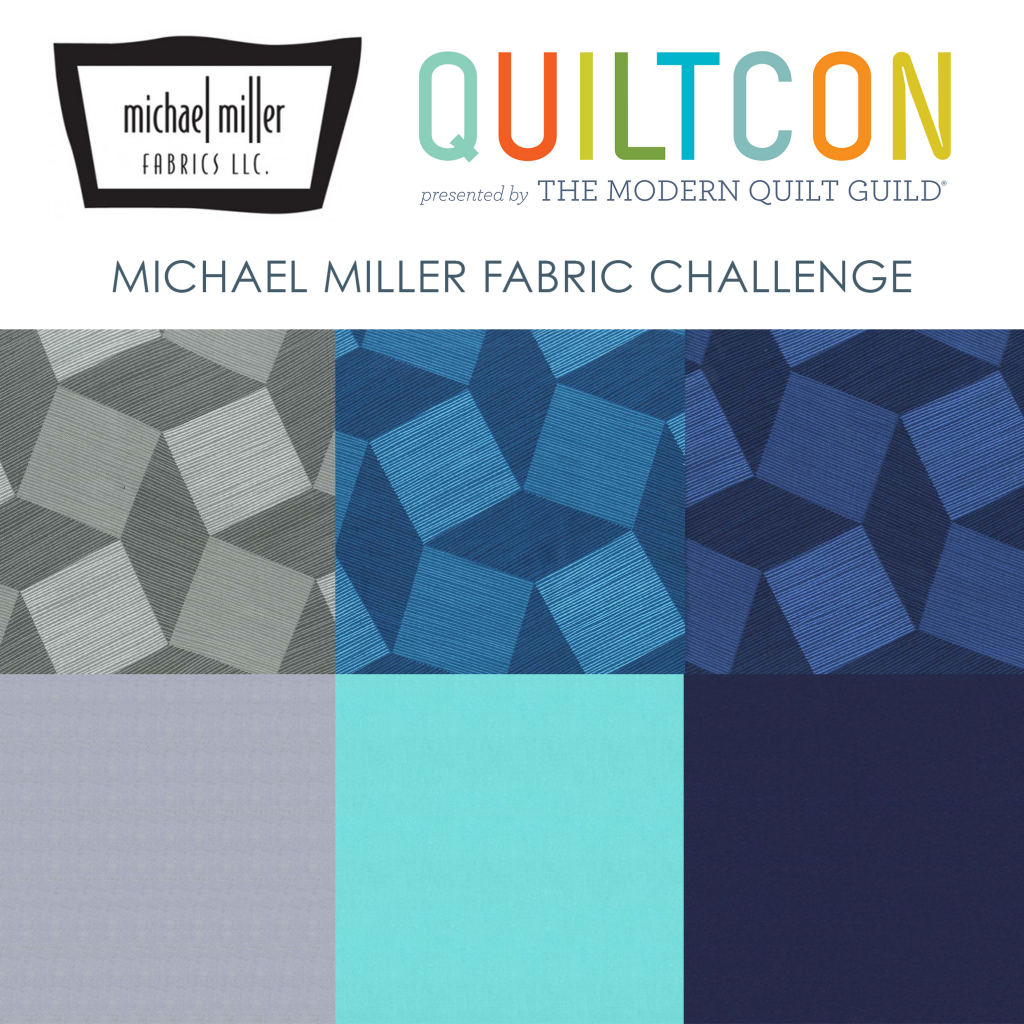 We're excited to unveil the next Michael Miller Fabric Challenge for QuiltCon 2017! This year's fabrics include three prints and three solids from Michael Miller's new Luxe collection of superior 108″ cotton fabrics. Each participant will receive two cuts of fabric — one print and one solid — that measure 18″ x 36″ (one square yard). Like previous fabric challenges, we have many more members than available fabric. We wish everyone could get one, but the bundles are first come, first serve. That said, everyone who signs up for the challenge should submit their final quilt to the Fabric Challenge category at QuiltCon — like other categories, this category is eligible for judging and awards up to $1,000!
To be eligible, participants must use at least two fabrics from the Luxe line (one solid and one printed). However, participants may use as many Luxe fabrics as desired. Participants may also use one coordinating Michael Miller solid. Binding and backing can be any Michael Miller fabric. Once completed, these quilts will be entered it into the Michael Miller Fabric Challenge category at QuiltCon. The top prize for this category is $1,000!
Official Michael Miller Fabric Challenge Category Description – eligible quilts must use a minimum of two fabrics from the Luxe collection — at least one print and one solid in Fog, Luna or Midnight. Additional Michael Miller prints or solids outside of the Luxe collection may be used on the backing and binding.
All fabric will be shipped by mid-July, and the deadline for entries is November 30, 2016 (the same as other QuiltCon quilt show entries). Quilts can be submitted via the form at quiltconentry.com.
The following shops carry the Luxe line. Click on table headers to sort by name, city or state.


Fabric Shop
Address
City
State
Zip Code
Phone
Seams Like Home
18209 80th Ave S Ste B
Anchorage
Alaska
99507
907 677 8790
Bernina Connection
4219 E. Indian School Rd. Suite 103
Phoenix
Arizona
85018
602 553 8350
Modern Quilting
4649 E Cactus Rd
Phoenix
Arizona
85032
602 441 2929
Quilters Market
7601 East Speedway Blvd.
Tucson
Arizona
85710
520 747 8458
Quilters Oasis
9963 East Baseline Road #105
Mesa
Arizona
85209
480 354 4077
Sew Hip
3400 Speedway Suite 120
Tucson
Arizona
85716
505 977 8991
Broadway Quilts
20525 Broadway
Sonoma
California
95476
707 280 1487
Fabricworm – Birch Fabrics
1244 Pine St. Suite D
Templeton
California
93465
805 239 8888
M & L Fabrics
3430 West Ball Road
Anaheim
California
92804
714 995 3178
Michael Levine
414 E. 9th Street
Los Angeles
California
90015
213 622 6259
Richard's Fabrics
8663 Baseline
Rancho Cucamonga
California
91730
909 987 6061
StoneMountain & Daughter
2518 Shattuck Avenue
Berkeley
California
94704
510 845 6106
SuperBuzzy
1797 E Main St
Ventura
California
93001
805 643 4143
Whistle Stop Quilt Shop
13342 Lincoln Way
Auburn
California
95603
530 888 1882
Quilters Stash
1180 W. Ash St. Ste. 100
Windsor
Colorado
80550
970 686 5657
Bernina Sewing Centre
3593 Lake Emma Rd
Lake Mary
Florida
32746
407 805 9300
Fabric Smart
5401 Gulfport Blvd South
Gulfport
Florida
33707
Gigi's Fabrics
706 W Lumsden Rd
Brandon
Florida
33511
813 376 5015
Just Add Cinnamon
4220 Hood Road
Jacksonville
Florida
32257
904 374 0532
Lady Schep's Fabric and Design LLC
2962 Blackwater Oaks Dr
Mulberry
Florida
33860
863 943 4960
Rainbow's End Quilt Shoppe
941 Broadway
Dunedin
Florida
34698
727-733-8572
Sew Worth It
5507 Palmer Crossing Circle
Sarasota
Florida
34233
941 924 5600
Sewing Studio
9605 South Hwy 17 & 92
Maitland
Florida
32751
407-831-6488
Fabric.Com
4190 Jiles Rd
Kennesaw
Georgia
30144
770 792-8590
Tiny Stitches
2518 East Piedmont Road
Marietta
Georgia
30062
770-565-1113
Sew Special
275 Kaahumanu
Kahului
Hawaii
96732
808 877 6128
Crazy To Quilt
707 W. 1st St
Cedar Falls
Iowa
50613
319 277 1360
Cut Up & Quilt
303 McKenzie Ave
Council Bluffs
Iowa
51503
712 256 5550
Quilters Quarters
213 1st St E
Independence
Iowa
50644
319 334 4443
Quilting Connection
238 Main Street
Ames
Iowa
50010
515-233-3048
Woodside Quilting
5360 N.E. 14th Street
Des Moines
Iowa
50313
515 707 7432
A to Z Quilting
826 State St
Mendon
Illinois
62351
217 223 9280
Lori's Pins N Needles
1122 N Main Street
Paris
Illinois
61944
217 465 5541
Material Girl
21 North Williams St
Crystal Lake
Illinois
60014
815 459 2084
Quiltfabric.com
818 Ogden Avenue
Westmont
Illinois
60559
630-321-9051
Quilting In Aisle 3
1525 N Springfield St
Virden
Illinois
62690
217 965 3014
Quilting In The Valley
117 Gooding St
Tonica
Illinois
61370
309 791 1122
Vanas
7705 W. State RTE 17
Kankakee
Illinois
60901
815-939-2000
Calico Point
24856 CR 40
Goshen
Indiana
46526
574 862 4065
Lolly's Fabrics
255 E. Main
Shipshewana
Indiana
46565
260-768-4703
Capital Quilts
15926 Luanne Drive
Gaithersburg
Maryland
20877
301 527 0598
Material Girl
6750 Crain Highway
La Plata
Maryland
20646
301 392 9575
Lucy In The Sky Quilts
839 Gull Road
Kalamazoo
Michigan
49001
269-381-7242
Quality Quilting
4983 Bird Dr
Stockbridge
Michigan
49285
Time Remembered
16701 21 Mile Road
Macomb
Michigan
48044
586 221 1954
Calico Hutch
20520 810th Ave.
Hayward
Minnesota
56043
507-377-1163
Crafty Corner
1820 Oxford Street
Worthington
Minnesota
56187
507-372-2707
Jackman's Inc
1221 Andes Blvd
Saint Louis
Missouri
63132
314-994-1060
Missouri Star Quilt Company
1005 S Hughes St.
Hamilton
Missouri
64644
816 583 7722
Quilts & Quilts Fabric Shop
3500 Gretna Road
Branson
Missouri
65616
417-334-3243
Birdseye Mercantile
105 Main Street West
Avon
Montana
59713
406 492 7070
Mouse Creek
2212 Rte 9 South
Howell
New Jersey
07731732 294 7858
Sewing Circle Inc.
5751 Oleander Dr. #5
Wilmington
North Carolina
28403
910-397-9399
Sewingly Yours
1329 Lewisville-Clemmons Road
Lewisville
North Carolina
27023
336 766 8271
Thimbelina's Quilt Shop
118 North B St. Ste. B
Livingston
Montana
59047
406 222 5904
Santa Fe Quilts
3018A Cielo Ct
Santa Fe
New Mexico
87507
503 473 3747
Gloversville Sewing Center
385 South Main Street
Gloversville
New York
12078
518 725 4919
Hawthorne Threads
54 Elizabeth St. Ste #34
Red Hook
New York
12571
845-835-6014
Log Cabin Quilts
1145 Route 9W
Selkirk
New York
12158
518 767 2040
Patricia's
333 W Commercial
E. Rochester
New York
1445
585 248 2362
Mary Jo's Cloth Shop
401 Cox Rd.
Gastonia
North Carolina
28054
704-874-0691
Patchwork Memories
226 E Chatham St
Cary
North Carolina
27511
Quilting Post
717 S. Main Street
Stillwater
Oklahoma
74074
405 624 0303
Sooner Quilts
7821 S. Sooner Road
Guthrie
Oklahoma
73044
405 282 2070
Boersma's
203 East 3rd Street
Mcminnville
Oregon
97128
503-472-4611
Bolts To Blocks
133 Broadalbin St SW
Albany
Oregon
97321
503 910 2700
Fabric Depot Inc.
700 S.E. 122 Avenue
Portland
Oregon
97233
503-252-7960
Jannilou Creations Inc.
1243 Main
Philomath
Oregon
97370-0333
541-929-3795
Quilts & Beyond
209 4th St
Prairie City
Oregon
97869
541 820 4777
Stitchin Post
311 West Cascade Street
Sisters
Oregon
97759
541-549-6061
Threads That Bind
120 Central
Coos Bay
Oregon
97420
541 267-0749
Winter Creek Cloth
545 NW Lewisburg Ave
Corvallis
Oregon
97330
256 343 4671
Gallery
116 North Pitt Street
Mercer
Pennsylvania
16137
724 662 0464
Mary Lee Fabric Shop
3510 West Main Street
Belleville
Pennsylvania
17004
717 935 2691
Old Country Store
3510 Old Phila Pike
Intercourse
Pennsylvania
17534
717 768 7101
Quilt Company
3940 Middle Road
Allison Park
Pennsylvania
15101
412-487-9532
Smile Spinners Studio
1975 Valley Rd/Route 850
Marysville
Pennsylvania
17053
717 957 4225
All Around The Block Quilting
979 North Leon
Giddings
Texas
78942
979 542 2782
Lone Star Quilt Works
4301 S. Texas Ave
Bryan
Texas
979 595 1072
Nimble Thimble
1813 Capital Drive #300
Tyler
Texas
75701
903 581 4926
Not Your Mama's Quilt Store
4152 W. Spring Creek Pkwy. Suite 156
Plano
Texas
75024
469 600 7818
Quilt Haus
651 North Business 35 #510
New Braunfels
Texas
78130
830-620-1382
Quilters Crossing
1006 W Main St
Tomball
Texas
77375
Sew Special Quilts
5139 N Loop 1604 W Ste 110
San Antonio
Texas
78249
210 698 6076
Sewing Basket
560 North Main Street Ste. 6
Salado
Texas
76571
254 947 5423
Tomorrow's Quilts
800 Lake Air Drive
Waco
Texas
76710
254 741 6988
Elaine's Quilt Block
6970 South 3000 East
Cottonwood Heights
Utah
84121
801-947-9100
Fabric Center
9135 South Redwood Road
West Jordan
Utah
84088
801-561-8726
My Heritage Fabrics
1843 Valley Drive
Ogden
Utah
84401
801 621-2202
Quilters Studio
9600 Main St Unit L
Fairfax
Virginia
22031
703.261.6366
Webfabrics
116 N. Bailey Lane
Purcellville
Virginia
20132
540 751 2069
Elma V & S Variety
325 West Main
Elma
Washington
98541
360 482 2411
Fabric Patch
220 10th Avenue S.W.
Ephrata
Washington
98823
509 754 8280
Quilt Revolution
7716C Pioneer Way
Gig Harbor
Washington
98335
253 358 3856
Quilting Bee
12117 East Mission
Spokane
Washington
99206
509 928 6037
Ruby Street Quiltworks
100 Ruby Street S.E.
Tumwater
Washington
98501
360 236 0596
Running Stitch Fabrics
213 1st Ave S
Kent
Washington
98032
253 277 2248
Sisters
476 N. Market Blvd
Chehalis
Washington
98532
360-748-9747
Woven Threads
136 East Wooden
Chelan
Washington
98816
509-682-7714
Rayocon DBA Ben Franklin
1083 Summit Avenue
Oconomowoc
Wisconsin
53066
262-567-0271